Recently, we saw a valuable change in Babnan, small suburb of Hooghly district with an artistic movement comprising artists from 73 nations around the world. Babnan is situated in Polba-Dadpur complex of the district in the state of West Bengal. 47 kilometers far from the capital of the state, Kolkata, Babnan is categorized under the Burdwan division. It can also be located at 21 kilometers towards west from the headquarters of the district Hugli-Chuchura. Babnan is famous for chicken poultry farms where chickens are raised domestically with the aim of farming meat and eggs for food. Special brooders have been established in Babnan that assists the farmers in developing these baby chicks and is generally called as poultry chicken.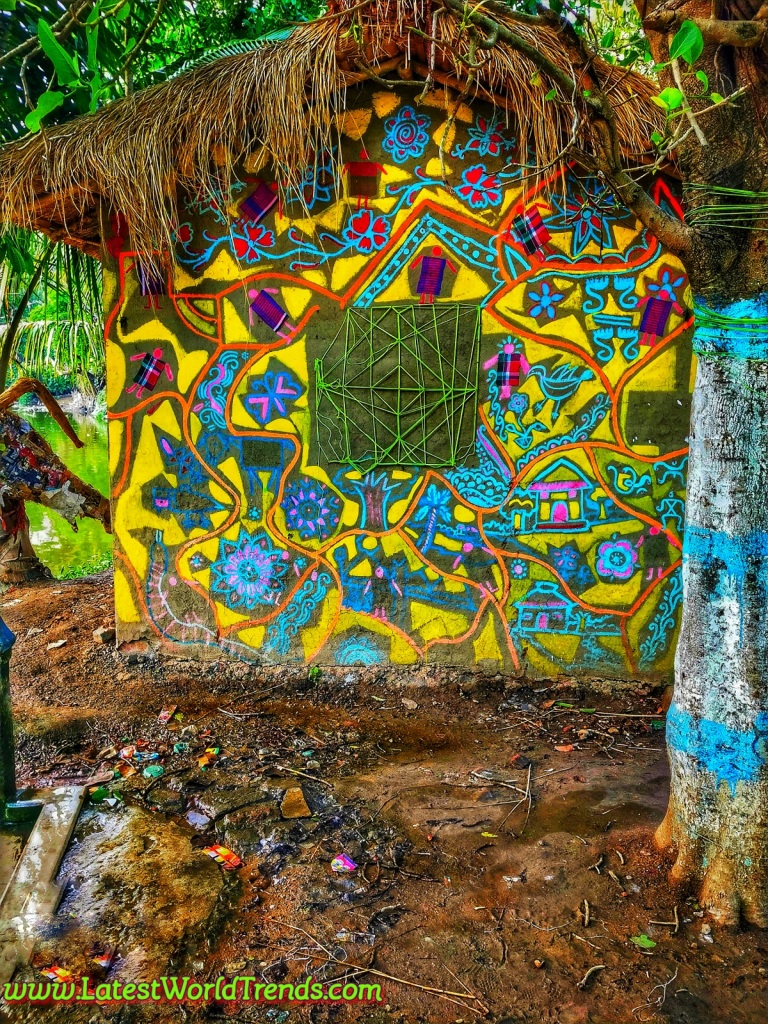 Besides having several poultry farms, the people of Babnan village is keen to learn new skills. They are likely to participate in different workshops on handicrafts and skills to lead daily life. Chikan embroidery is one of the popular handmade embroidery by the people of this village. Most of the people are involved in such creative works to make beautiful designs on fabrics of different textures like chiffon, cotton, silk, muslin etc. These fabrics are used for various purposes. Click here to view amazing chikankari work by the people of Babnan.
Engaging themselves in these co-curricular activities has imbibed the consciousness and awareness among the villagers. Now, they have gained knowledge on the significance of empowerment and education.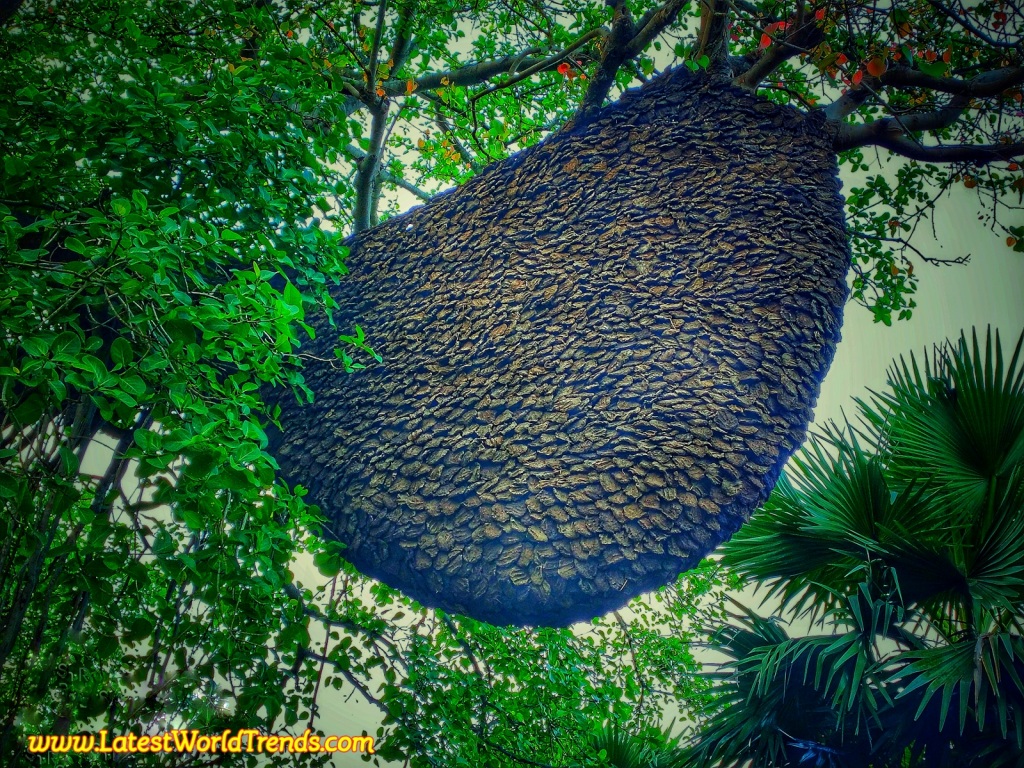 Komdhara village was no exception and few months ago, the farmers here earned nearly about Rs. 3,000 in a month. It would take 1.5-2 hrs approximately to reach a nearby hospital in the village. The percentage of literate people was just limited to 60%. Some of the villagers are striving to develop a health center with the assistance of a visiting doctor. Cases of several child marriage have been found.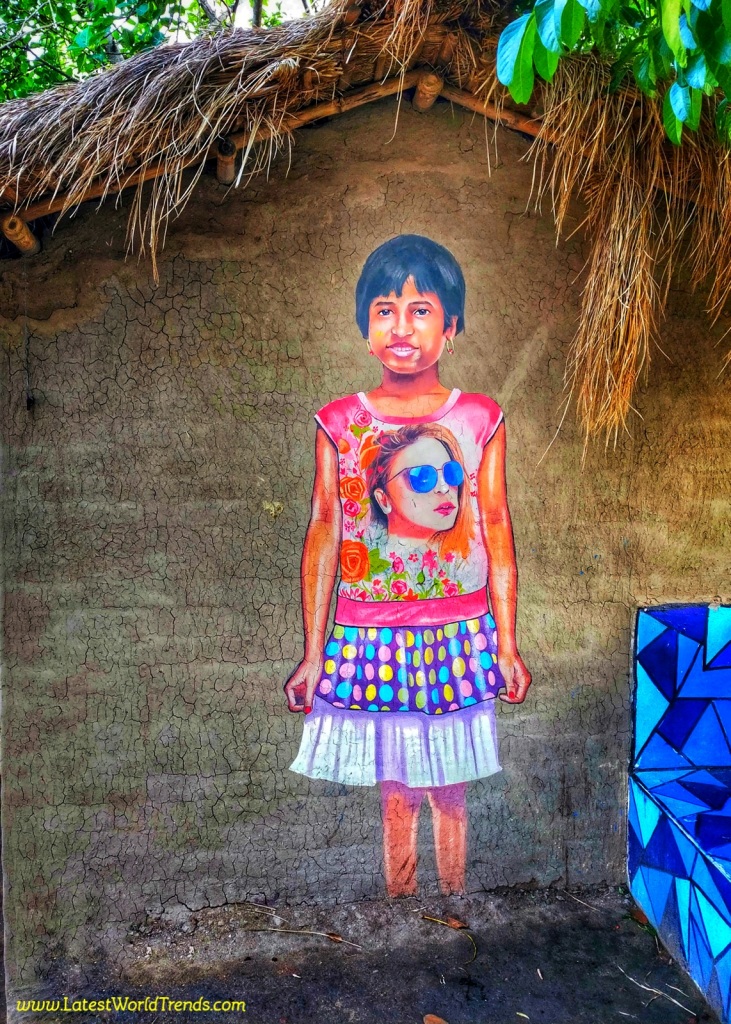 But nowadays, women are also working to generate some amount of income by creating handmade jewelry and handicrafts. Many of the villagers have stopped using plastics. Now, the village is cleaner than it was.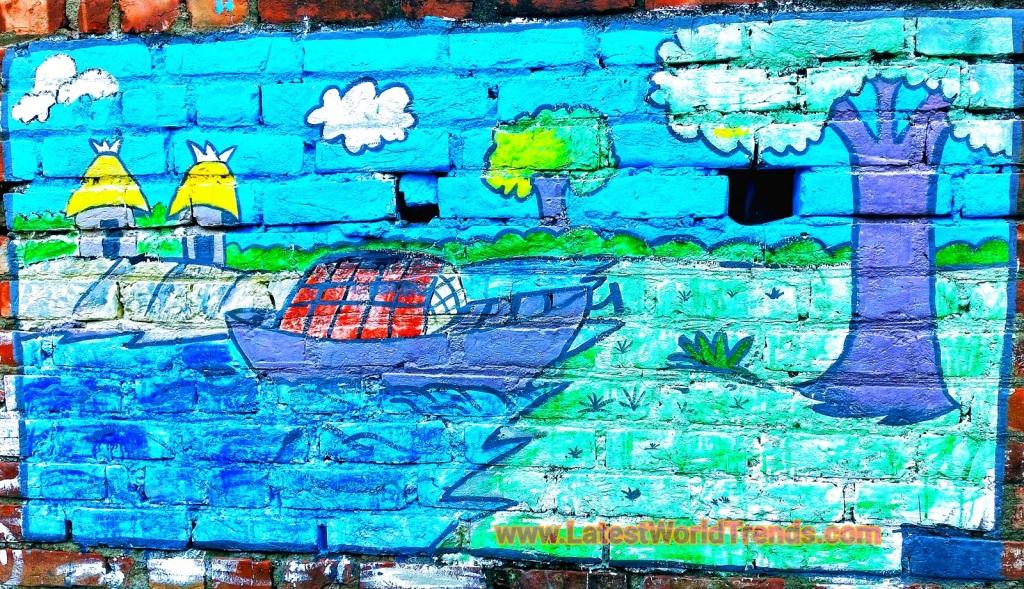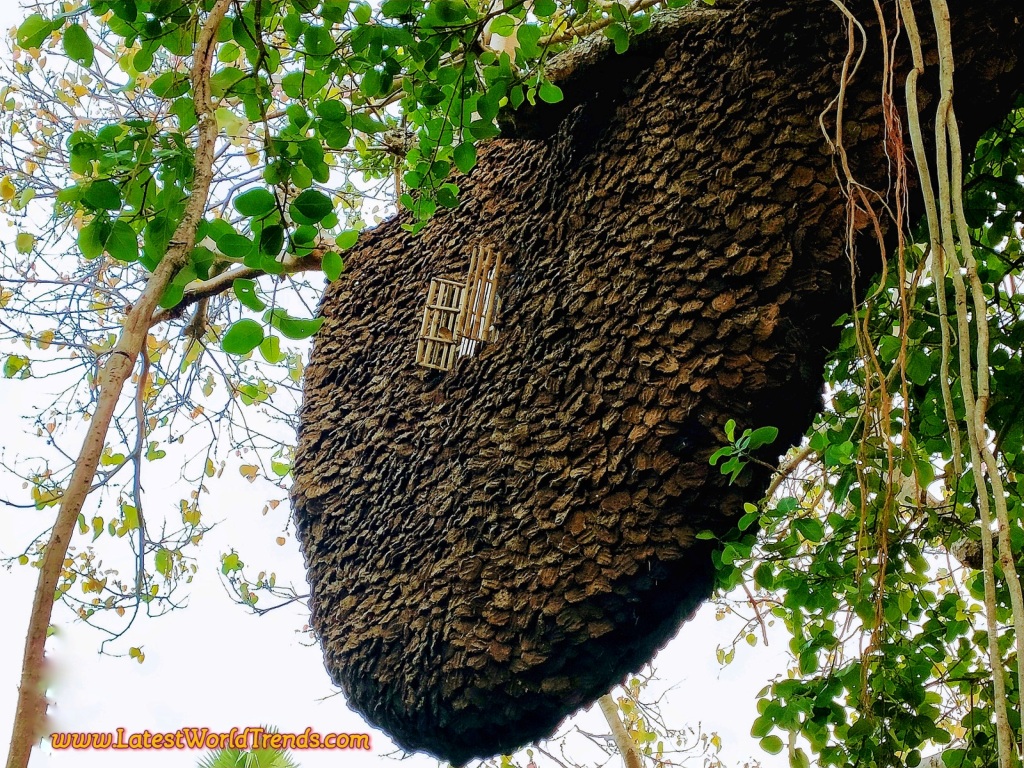 An artist named Bibek Santra from Komdhara has been holding the steering of the ship of organizing revolutionary movements through art. Currently settled in Pondicherry, he is working towards the development and upbringing of the village to give a better and healthy living to people residing in the village.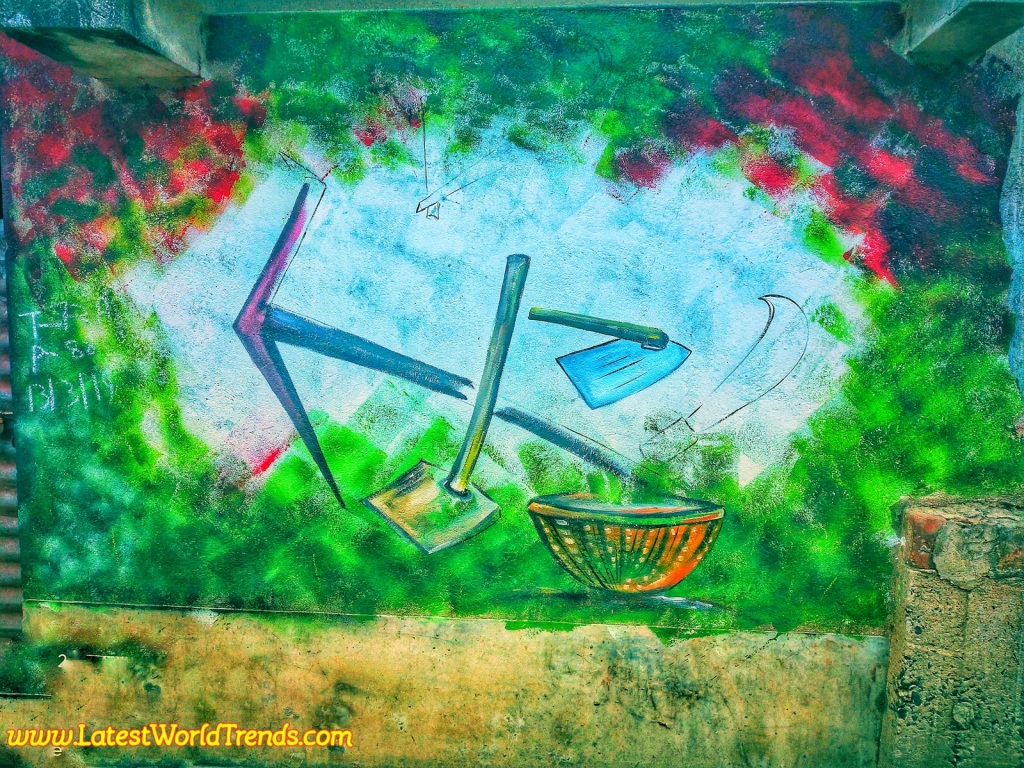 Bangla Biennale, an exhibition of art was organized which transformed the look of Komdhara village, near Singur giving it a new makeover. It took about 12-13 days to give it a new outlook. This work involved a variety of artists from countries Malaysia, Switzerland, Hungary, France, England and many more. The artists collaborated with the inhabitants of the village and changed the tiny hamlet into a cultural centre.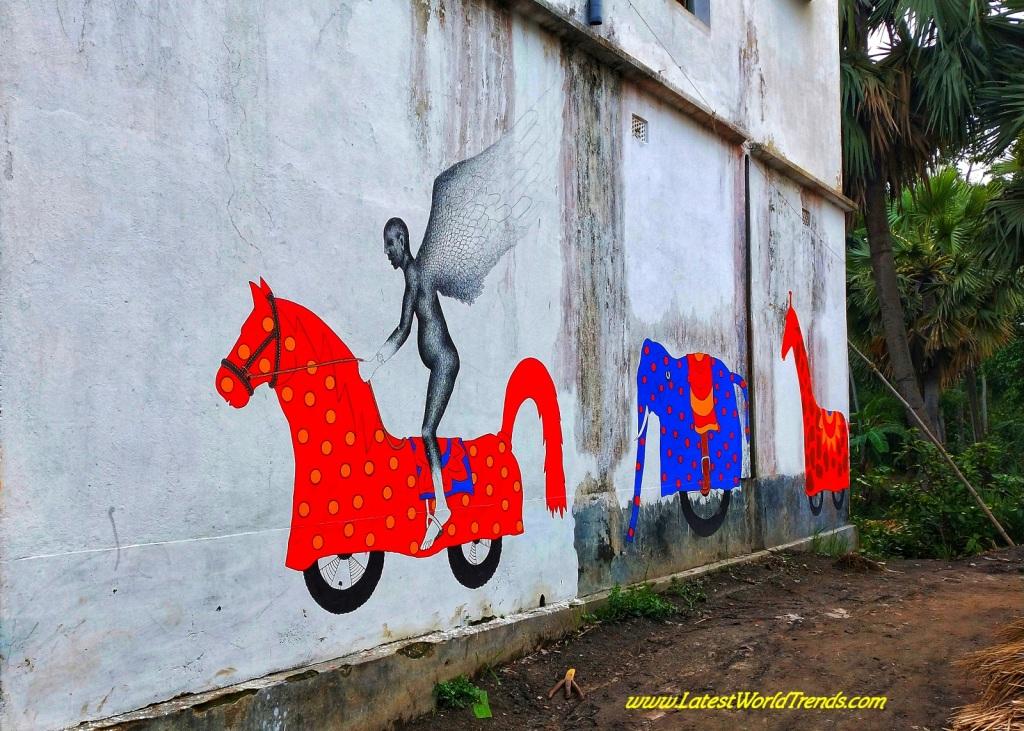 The walls were covered all over with collages and graffiti. The public places, roads and even trees were decorated with masks of people and illustrations. Furthermore, a peace gate developed with the help of iron sheets was presented by an artist to the village.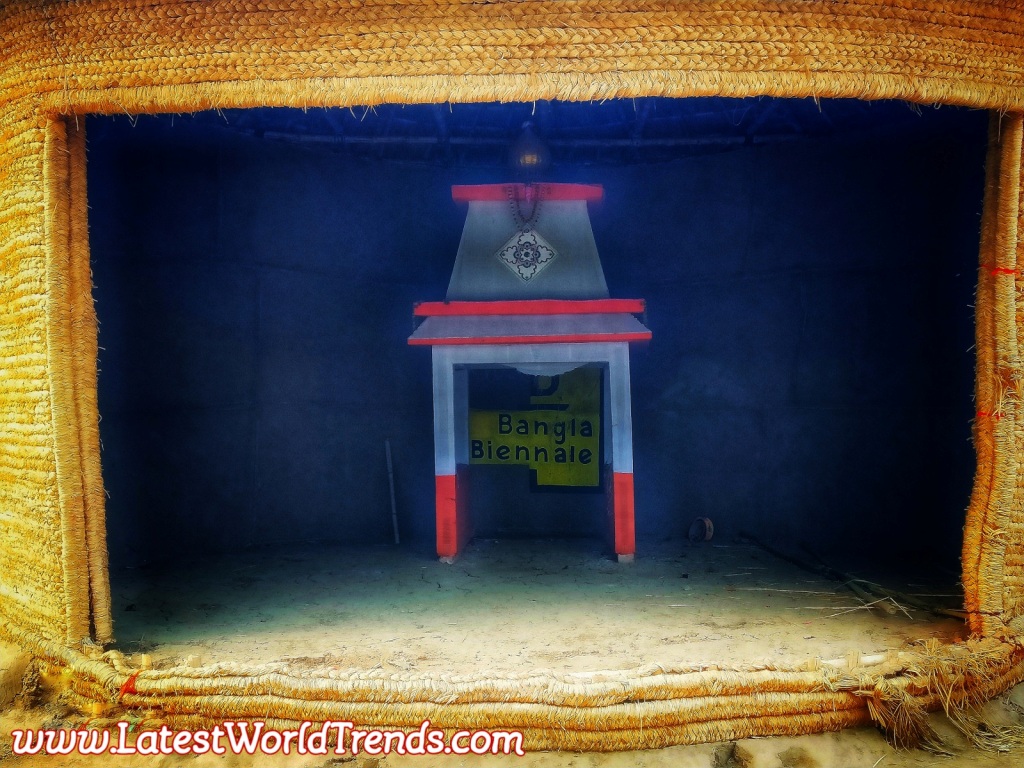 This area of the village where this festival took place is now installed with a haystack that will be lasting for many years. This installation can be utilized as a pandal or a meeting point for the villagers which has a shade and where they can have conversations relating to any matter. The villagers have become aware of the cleanliness and have placed several trash cans at specific points in order to keep their village clean. Now, people are awestruck with the beauty of Ghat Area which was cleaned and decorated to give a better view of this God's creation.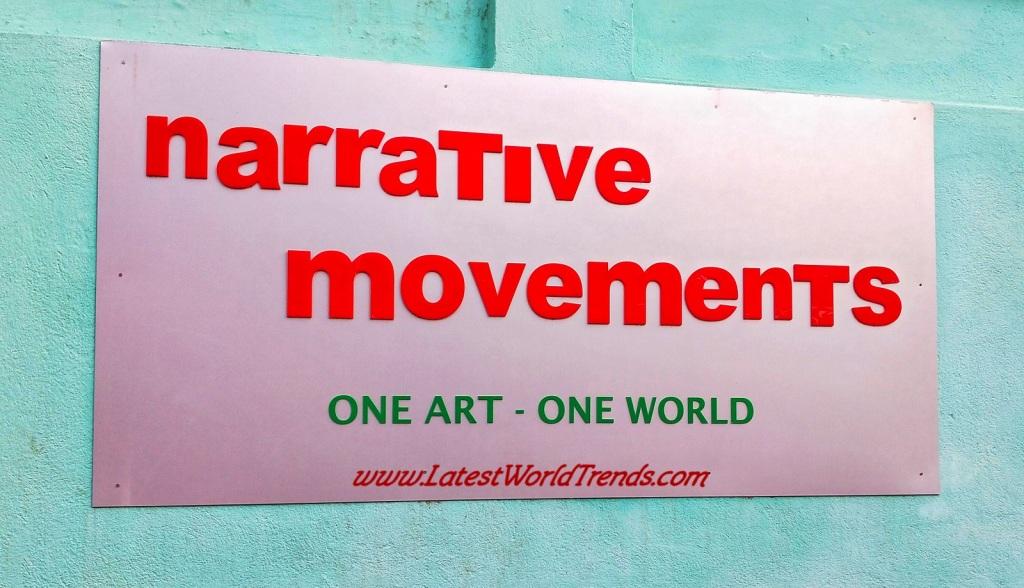 According to Santra, the village residents have become advanced and know the significance of being environment-friendly. The exhibition also encouraged local craftsmen to show their skills and give a helping hand to the artists. This also helped them in learning new things. Most of the installations were built with hay, mud, bamboo, ropes, sticks and earthen pots made locally.
The empowerment program is conducted by Sanchita Das, an artist from Kolkata. This program basically includes classes on Kantha stitch and jewelry-making taught to nearly 40 women. According to Sanchita, she is happy to see the progress and the way they are making themselves aware to sustain in this world.